2016 Award Winners
YWCA Rhode Island names "Women of Achievement" annual event recognizes accomplishments of women across industry, culture and public service
Thirteen women and two organizations were recognized for their accomplishments promoting peace, justice, freedom and dignity at the 12th Annual Women of Achievement Awards Luncheon, held September 27 at Kirkbrae Country Club in Lincoln. Deb Ruggiero served as the event emcee.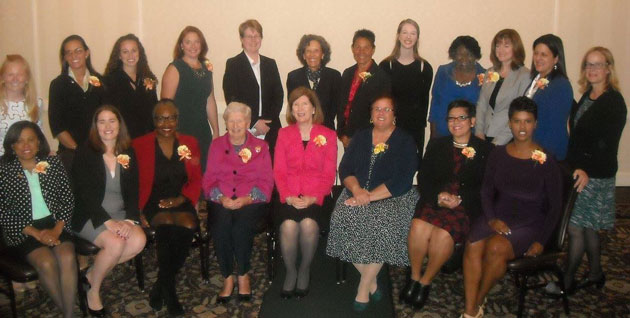 Congratulations to the 2016 honorees. YWCA Rhode Island appreciates the underwriters and attendees celebrating the following Women of Achievement and Organizations of the Year: Kimberly Ahern, Melba Depeña Affigne, Carolyn Belisle, Jessica David, Adriana Dawson, Kathy Flores, Brittany Star Hampton, Mary Kay Harris, Melissa Husband, Laura Ann Pisaturo, Mary Reilly, Camille Vella-Wilkinson, Rose Ella Weaver, Amica Mutual Insurance Co., and Bryant University.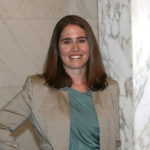 Kimberly Ahern is a special assistant attorney general with Rhode Island Office of the Attorney General. She currently serves as a prosecutor in the Domestic Violence and Sexual Assault Unit. Prior to joining Attorney General's office, she was a judicial law clerk for Honorable Maureen McKenna Goldberg of Rhode Island Supreme Court. She graduated from Roger Williams University School of Law, cum laude, and served as editor-in-chief of Law Review while there. Prior to law school, she graduated from Providence College, magna cum laude, with a degree in Public & Community Service Studies. Ahern is on the following boards – RWU Law Alumni Association, East Side/Mt Hope YMCA, and Women's Fund of Rhode Island.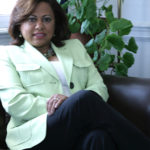 Melba Depeña Affigne has served as director for Department of Human Services since January 2015. Depeña Affigne brings extensive experience working with diverse populations in the State. Prior, she served as director of Crime Victims Compensation Unit in Office of General Treasurer, executive director of Providence Human Relations Commission and executive director of Rhode Island Democratic Party. Depeña Affigne is a graduate of University of Rhode Island where she earned Bachelor of Arts in Political Science and Masters in Human Development and Family Studies. She has served on board of directors of organizations such as Girl Scouts of Rhode Island, The Latino Civic Fund and Blue Cross & Blue Shield of Rhode Island Corporation Board, among others.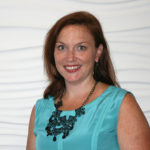 For 15 years, Carolyn Belisle has led Blue Cross & Blue Shield of Rhode Island's efforts to leverage philanthropy, employee volunteerism, and strategic partnerships to address critical issues affecting Rhode Islanders' health. Belisle has served in a leadership capacity on boards including Goodwill Industries of Rhode Island, Big Sisters of Rhode Island, the American Heart Association, and Grantmakers Council of Rhode Island. United Way of Rhode Island honored her in 2013 as a Partner of the Year. She is a member of Providence Business News "40 Under 40" class of 2014.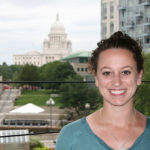 Jessica David is senior vice president of strategy and community investments at Rhode Island Foundation. She is responsible for the Foundation's strategy, grant programs, evaluation and learning, and economic security initiative. Among the projects she has led are the Rhode Island Innovation Fellowships, a program that empowers Rhode Islanders to improve life in Rhode Island; Make It Happen RI, an effort initiated in 2012 to improve the state's economy; and the Foundation's centennial campaign to preserve and enhance Roger Williams Park. A proud Rhode Islander, David gets excited about philanthropy, community making, Bruce Springsteen, and Roger Williams.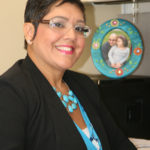 Adriana Dawson serves as assistant dean of Professional Education & Employer Outreach for Roger Williams University's School of Continuing Studies in Providence. Prior, Dawson was first female appointed state director for Rhode Island Small Business Development Center. During her 12-year tenure, Dawson led Rhode Island's first Latino Business Expo. Dawson is on Board of Directors for United Way of Rhode Island, vice chair of Providence Economic Development Advisory Committee, member on Latino Policy Institute Advisory Board at Roger Williams University, and founding member of Girl Scouts of Southeastern New England's Hispanic Advisory Board. She was also appointed by Governor Raimondo to RI Commission on Women. Dawson holds a Bachelor of Arts in Communication Studies from Northeastern University and a Master of Arts in Management & Organizational Communications from Emerson College.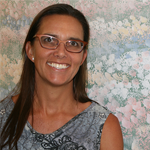 Brittany Star Hampton is an associate professor of Obstetrics and Gynecology in the Division of Urogynecology and Reconstructive Pelvic Surgery, and clerkship director for Obstetrics and Gynecology Core Clerkship at the Warren Alpert Medical School of Brown University and Women and Infants Hospital in Providence. Dr. Hampton has a strong interest in clinical urogynecologic research, medical education and medical education research, mentoring, and global health. She has authored more than 30 manuscripts, lectures nationally on her areas of interest, and holds leadership roles in national organizations such as Society of Gynecologic Surgeons, American Urogynecologic Society, Association of Professors of Gynecology and Obstetrics and International Organization for Women and Development. Dr. Hampton travels yearly with physicians-in-training to sub-Saharan Africa for obstetric fistula repair and education.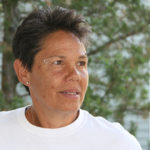 Kathy Flores has played and/or coached rugby for the past 30 years. She has represented her country both as a player and a coach of USA Rugby Women's National Team. Flores was recently awarded USA Rugby Coach of the Year in Fall 2015 and inducted into U.S. Rugby Hall of Fame in June 2016. "The thing I love most about my sport is the sense of confidence and self-esteem it gives to young women. I consider myself extremely lucky to have the opportunity to be a part of their growth."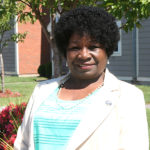 Mary Kay Harris is a community champion connecting people and policy in the City of Providence. She serves as a Providence City Councilor for the Eleventh Ward, which includes Upper South Providence and areas of the West End and Elmwood. Harris has secured housing for residents at risk of displacement and is working to strengthen economic development and bring new job opportunities to her ward. She has also established a new neighborhood association to empower her constituents. An eternal advocate, Harris believes in the power of unity and organization to realize positive change.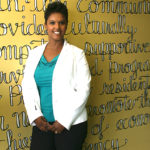 Melissa Husband is executive director of Community Action Partnership of Providence and an adjunct professor for Roger Williams University's SCS Community Development Program teaching Nonprofit Management. Husband holds a Bachelor of Science in Political Science from Roger Williams University and a Masters in Public Administration from the University of Rhode Island. She holds a Master Certificate in Supervisory Management and is a graduate of the Leadership Rhode Island's 2012 Theta II Class. She is an actively involved member of several boards, committees and commissions as a representative of the communities she serves including: Co-chair of Mayor Jorge Elorza's Housing and Neighborhood Development Committee, I-195 Commissioner, Public Utilities Commission Advisory Board Member, RI Coalition for the Homeless Board Member, United Way of RI Community Investment Board Member, just to name a few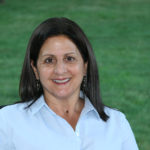 Laura Ann Pisaturo has been a committed advocate for equal rights and a number of social justice issues impacting women, children and the LGBT community. She graduated cum laude from Suffolk University Law School and University of Rhode Island. Pisaturo has dedicated a large portion of her career to public service, working in both public and private sectors and holding legal position with Providence office of Hinckley, Allen & Snyder, LLP, Rhode Island Department of Attorney General, Day One, her own private practice and as chairperson of the Rhode Island Parole Board. She has taught as an adjunct professor at Salve Regina University and University of Rhode Island. Pisaturo was instrumental in the win for marriage equality in Rhode Island. She is actively engaged in the Rhode Island Bar Association and has served with distinction on Rhode Island Supreme Court Attorney Disciplinary Board as well as the City of Warwick Planning Board.
Mary Reilly entered the Sisters of Mercy in 1948 and began her teaching career at St. Mary's School Pawtucket and then at St. Mary's Bay View. She ministered for 6 years in Central America where she internalized the sufferings of women and girls. She returned to Rhode Island and worked as a member of the Team Ministry of St. Michael's Parish Providence. She co-founded Dorcas Place and with others founded McAuley House, Good Friday Walk for Hunger and Homelessness, The Child Opportunity Zone, Walk for Literacy, and NETWORK (Wash). She founded Sophia Academy along with the support of the Sisters Collaborative. Sister Mary has spent her life advocating for social justice and especially in ministries that empower women and girls.
Camille Vella-Wilkinson has over 25 years experience in Human Resources, Multicultural Competencies and Project Management. She participated in the development of Navy's Command Managed Equal Opportunity Program. A war veteran who served during Operation Desert Storm, she retired as a lieutenant commander. She was appointed and has continued to serve as a state commissioner for RI Commission for Human Rights. Vella-Wilkinson started her own business, Higher & Hire as a career coach and diversity trainer. Elected to Warwick City Council for three terms, community service has consistently been one of Vella-Wilkinson's guiding principles. She is a graduate from Long Island University with Bachelor of Arts degrees in English and Psychology. She is also a graduate of Warwick Citizens Police Academy. Vella-Wilkinson has completed two advanced degrees: a Master of Science Degree in Labor Relations/Human Resources from University of Rhode Island and a Juris Doctor from Roger Williams University School of Law.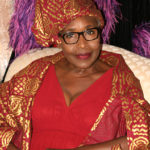 Rose Ella Weaver joined Trinity Repertory Company in Providence as an acting fellow, working with Trinity for 22 seasons. She starred as Billie Holiday in Trinity's – Lady Day. On television, Weaver had roles in The Brotherhood, In the Heat of the Night, Tales from the Crypt, The Young and the Restless, and L.A. Law. In film, she starred opposite Jodie Foster in The Accused and appeared in Poetic Justice opposite the late Tupac Shakur. Weaver received a Bachelor of Arts from Wheaton College, Master of Fine Arts from Brown University, Honorary Doctor of Fine Arts from Marymount Manhattan College, and Honorary Doctor of Fine Arts from Providence College. She wrote Menopause Mama, a one-woman play with music that tells story of women and pro-aging; Skips in the Record about coping with Alzheimer's disease, which was awarded Rhode Island State Council on the Arts Fellowship in Playwriting; and Silhouette of a Silhouette, based on death of one of her brothers. Weaver has entertained audiences for more than 40 years in theatre, television, film and music.
'Organizations of the Year' Awards will also be recognized at this event. YWCA Rhode Island sponsors The Fantastic Girltastic Code Company in partnership with Bryant University and Amica Insurance. They will be recognized for their support in holding an App Challenge for middle schools girls. Participants worked together to identify a problem in their communities, thought creatively about how it could be solved using technology, created a storyboard prototype of a mobile application, and made presentations to a panel of judges.
Amica Mutual Insurance Co., the nation's oldest mutual insurer of automobiles, was founded in 1907. The company, based in Lincoln, is a national writer of auto, home, marine and umbrella insurance. Life coverage is available through Amica Life Insurance Company, a wholly owned subsidiary. Amica employs more than 3,400 people in 44 offices across the country.
Bryant University is a leading private university offering an innovative business and liberal arts education. Founded in 1863, Bryant enrolls approximately 3,700 graduate and undergraduate students from 36 states and 72 countries. Bryant is recognized as a leader in international education and receives top rankings from U.S. News and World Report, College Factual/U.S.A. Today, and Bloomberg Businessweek.
For additional information about the awards luncheon, contact YWCA Rhode Island at 401-769-7450 or [email protected].