2007 Award Winners
theme – improving the lives of children and youth
FOUR AREAS OF GROWTH
FOCUS ON FAMILY
vitality:
She strengthens families by assisting the parent/guardian with parenting skills, education, or employment.
Lisa Guillette

Lisa Guillette, executive director at Rhode Island Foster Parents Association, provides education and other forms of support to families. Her nominator describes her as the ultimate mother.
COMMUNITY CONNECTIONS
positive direction

:
She represents a specific interest on behalf of children.
Elizabeth Colon

Elizabeth Colon, director of outreach and training at Childhood Lead Action Project, represents a specific interest expertly. She is totally committed to the cause of eliminating childhood lead poisoning in Rhode Island.
MORE FOR GIRLS DOES NOT EQUAL LESS FOR BOYS
HELPING HANDS
helping hands
Maureen B. Macera, Ph.D.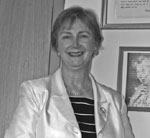 The helping hands award is presented to a special friend who represents this year's theme of improving the lives of children and youth. Maureen Macera works with YWCA Northern Rhode Island (and other collaborators) on YWCA's Parenting in Progress program, an alternative education program for parenting and pregnant young women. She has had a long and distinguished career in education for nearly 40 years.