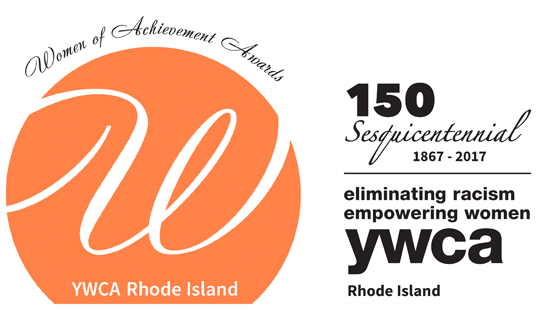 2017
WOMEN OF ACHIEVEMENT
13TH ANNUAL WOMEN OF ACHIEVEMENT AWARDS
Join us in recognizing the best in the accomplishments of women across industry, culture and public service.
For information about the 13th Annual Women of Achievement Awards event, contact YWCA Rhode Island at 508-658-0123 or [email protected]
SAVE THE DATE
Women of Achievement Awards Luncheon
Tuesday, November 14 (NEW DATE!)
11:30am – 1:30pm
Kirkbrae Country Club
Lincoln, RI
TICKETS/UNDERWRITING
View ticket and underwriting options here.
Mia A. Ackerman, 2010 • Betty Adler, 2011 • Melba Depeña Affigne, 2016 • Kimberly Ahern, 2016 • Cheryl Albright, 2015 • Mary-Kim Arnold, 2009 • Annlouise Regina Assaf, 2006 • Toby Ayers, 2012 • Tracy C. Baran, 2009 • Sierra Barter, 2014 • Haiganush R. Bedrosian, 2014 • Carolyn Belisle, 2016 • Lisa Bergeron, 2009 • Elizabeth Burke Bryant, 2007 • Cheryl A. Burrell, 2013 • Anna Cano-Morales, 2013 • Nancy Carriuolo, 2011 • Letitia Carter, 2013 • Carlene Casciano-McCann, 2015 • Candy Castaldi, 2008 • Elizabeth "Liz" Chace, 2012 • Stephanie Chafee, 2013 • Judith Clare, 2008 • Cathy Clasper-Torch, 2014 • Paige Clausius-Parks, 2009 • Elizabeth Colon, 2007 • Marcia Coné, 2011 • Joan Countryman, 2011 • Sue Cowley, 2005 • Joanne Daly, 2008 • Jessica David, 2016 • Karen Davis, 2007 • Adriana Dawson, 2016 • Deborah DeBare, 2015 • Annie DeGroot, 2008 • Christine DeBlois, 2005 • Gigi DiBello, 2011 • Aleatha Dickerson, 2015 • Joyce J. Dolbec, 2006 • Ethel M. Dowdy, 2005 • Jacqueline L. Dowdy, 2013 • Mary F. Dwyer, 2006 • Judith S. Earle, 2007 • Stephanie Federico, 2010 • Karen Feldman, 2009 • Carrie Bridges Feliz, 2012 • Barbara G. Fields, 2010 • Rebeca Filomeno-Nason, 2015 • Kathleen Fitzgerald, 2006 • Kathy Flores, 2016 • Karen Gager, 2007 • Jeanne Gattegno, 2014 • Marie Ghazal, 2014 • Ana L. Giron, 2009 • Deborah A. Gist, 2011 • Jodi L. Glass, 2011 • Cleo Darcia Graham, 2006 • Lisa Guillette, 2007 • Diana L. Hackney, 2007 • Brittany Star Hampton, 2016 • Amanda Hannon, 2010 • Lynne B. Hannon, 2013 • Ann-Marie Harrington, 2008 • Mary Kay Harris, 2016 • Sally Ann Hay, 2013 • Eileen Hayes, 2013 • Yvonne Heredia, 2009 • Melissa Husband, 2016 • Ghislaine Jean-Mahone, 2007 • Carole A. Jenny, 2006 • Hilary Jones, 2012 • Carmen Diaz Jusino, 2015 • Ann C. Keefe, 2013 • Mary Kuhn, 2005 • Sally E. Lapides, 2014 • Therese-Tsetse M. Lavallee, 2010 • Ardena F. Lee-Fleming, 2010 • Laurie Ludovici, 2015 • Maureen B. Macera, 2007 • Maureen Maigret, 2008 • Carol Malysz, 2008 • Pamela Martin-Mitchell, 2007 • Catalina Martinez, 2015 • Carolyn Mark, 2011 • Patricia Martinez, 2012 • Sabina Matos, 2015 • Kelly McGarry, 2006 • Susan D. Menard, 2005 • Leah Williams Metts, 2014 • Kim Michalik, 2010 • Maria Montanaro, 2010 • Donna Montaquila, 2014 • Mary Moroney, 2008 • Margaret "Digit" Murphy, 2009 • Sandy Niles, 2005 • Michelle Novello, 2008 • Skip Nowell, 2005 • Carol O'Donnell, 2012 • Edna O'Neill Mattson, 2015 • Adeola Oredola, 2012 • Denise Perry, 2007 • Valerie A. Perry, 2012 • Janet Pichardo, 2014 • Laura Ann Pisaturo, 2016 • Donna M. Policastro, 2008 • Elizabeth Powers, 2008 • Kathryn Quina, 2015 • Carolyn Rafaelian, 2012 • Nancy Rafi, 2009 • Gina M. Raimondo, 2011 • Lisa A. Ranglin, 2014 • Marcia Ranglin-Vassell, 2007 • Julie A. Rawlings, 2013 • Mary Reilly, 2016 • Hannah Claire Resseger, 2008 • Roberta Richman, 2012 • Mary Riley, 2006 • Kim A. Ripoli, 2015 • Barbara H. Roberts, 2006 • Maureen A. Roddy, 2005 • Robin Rodgers, 2006 • Angela Romans, 2013 • Charon Rose, 2015 • Hillary Salmons, 2007 • Toby Simon, 2014 • Mary Ann Shallcross Smith, 2008 • Barbara Sokoloff, 2012 • Jennifer M. Stanley, 2010 • Joyce L. Stevos, 2011 • Kathleen A. Taylor, 2009 • Acelia Terrero, 2008 • N. Lynn Thoma, 2005 • Clarice LaVerne Thompson, 2009 • O. Rogeriee Thompson, 2011 • Kimberly D. Trusty, 2010 • Valerie Tutson, 2009 • Lynne A. Urbani, 2006 • Vinnie Velazquez, 2010 • Camille Vella-Wilkinson, 2016 • Susan D. Wallace, 2008 • Donna P. Walsh, 2009 • Linda N. Ward, 2014 • Rose Ella Weaver, 2016 • Shanna Wells, 2009 • Laurie White, 2014 • Amalee Wulfkuhle, 2006 • Mary Zahm, 2010